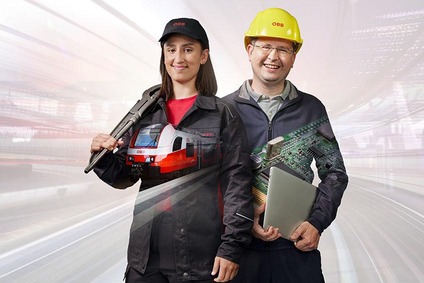 Vehicle technicians
Vehicles weighing several tonnes pass through the hands of vehicle technicians, who check components down to the smallest detail so that passengers and goods reach their destination safely and on time.
Vehicle technicians are responsible for technical tasks in maintenance and repair, as well as for the assembly, conversion and modernisation of rail vehicles and their components.
The classic skilled trades, such as electrical engineers, electronics engineers, mechatronics engineers, mechanical engineers, painters and refrigeration engineers are active here.
Engineering, IT, data and digitalisation specialists
Innovative and intelligent asset performance management: this is how availability is increased and costs reduced – through proactive vehicle deployment and maintenance planning based on ongoing vehicle and component condition monitoring.
Engineering specialists
We work in future-oriented way. Because complex tasks need forward-thinking, intelligent solutions. These are developed by our key bearers of knowledge and skills in the field of engineering.
Life-cycle engineering, SCM support and production: Our engineers are responsible for the fleets of locomotives, passenger & freight wagons and special vehicles, as well as for the components wheelsets, brakes and doors.
Our engineers are the experts for complex technical challenges. They provide support regarding vehicle procurement and refurbishment, vehicle master data or condition-based maintenance.
System technology specialists
The hub for optimal production processes: customised workshops are developed here to ensure stable and sustainable vehicle operation. This includes:
IT project management, IT business analysis, data management and the digitalisation of the entire maintenance process.
Industrial engineering specialists
The effective, efficient and economical implementation of maintenance specifications takes centre stage here. Manual work steps are digitally mapped according to defined framework conditions together with the responsible department.
Special training areas: Electrical engineering, mechanical engineering, mechatronics, industrial engineering, automation engineering, information technology.
Watchado-Videos